---
Main Effects
- Reverb
Reverb enriches your voice like in theatre. In practise, as you approaching to microphone for better voice resolution, you sacrifice nature reverb without awareness. This is why you need artificial reverb for supplement — especially for singing case. Besides, you can also get "bathroom effect" by adding excessive reverb.

- Echo
Echo repeats your voice with delays as if it is being reflected in a larger acoustical space than the physical space. This feature can help to bring your voice out of the door, making it sounds virtually in open square, long canyon, deep cave or high sky.

- Vibrato
If you haven't yet developed vocal vibrato technique, try this feature to get equivalent vocal enhancement by adding artificial vibrato and tremolo. The auto mode is intended for singing case where the artificial vibrato will be auto-engaged only in lasting tones; whereas, the manual mode is for many other purposes, such as voice of terror.

- Overtones and Undertones
These two spectral filters are the ways you tune the "flavor" of the voice. Overtones influence voice perception in bright/dark, cool/warm or sharp/smooth; Undertones influence voice perception in thick/thin, deep/shallow or relaxed/tensed.

- Mixer
This feature allows you to adjust the mixing ratio among your foreground voice and the background music. If no background music is playing, it only changes the volume of your voice.
Pitch Shift Wheel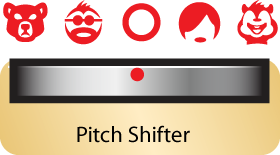 This feature will shift your regular voice to an unusual tone which you may not be able to comfortably produce elsewise. It is a powerful tool to reproduce your vocal in different keynotes/tonal zones, or in different gender from masculine to feminine, or even in different species from monster to chipmunk.
Harmonizer Pad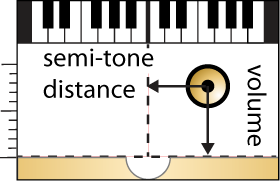 This tool generates a second vocal based on your input vocal, keeping them in harmonious as in duet. By moving around the finger tip, you can control how the second vocal is derived from you original vocal. When you move the finger tip horizontally, you change the second vocal's semi-tone distance apart from your original vocal. When you move the finger tip vertically, you change the volume of the second vocal. The final result is determined by the combined position of the finger tip in both directions.
Synthesizer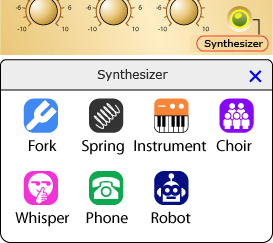 This is a group of uncommon effects which tweaks your voice aggressively or replaces your voice with something else. Tapping on the synthesizer name to choose and use a different synthesizer. Tapping on the round check mark near to the synthesizer name to toggle on/off the current synthesizer.
Reset
When you need to clear all effects, you don't have to set each of them to zero, just tap on this button.
Presets

You can define a few favorite effects and keep them handy for use in a pending event, such as: a show, a party or just a sprang... The preset buttons will serve as your personal bank of custom vocal masks. Changes of any effect will be automatically saved to the currently highlighted button. Tapping on another button will recall the effects associated to that button. Transitions between buttons will be immediate, real time and seamless, which allows a single player impersonates up-to 5 different vocal roles in one performance.
Background Player
Adding background music, such as accompaniment music in Karaoke, can be easily done with the Background Player. Simply open the built-in media browser where you can select an audio item from your iPhone Library. Then play it mixed with your foreground voice.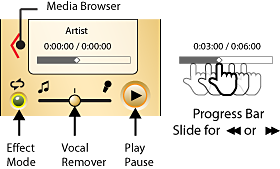 If the music comes with original vocal, the advanced vocal remover can help to suppress the original vocal while preserving the music component. You can control how much the original vocal will be suppressed by moving the slider across 3 zones: left means less original vocal; centre keeps the original vocal intact; right boosts the original vocal more than it was.

The progress bar is not only an indicator but also a slider for fast-forward/rewind. You can swipe on it to skip/repeat an arbitrary part of the playing music.

When background music plays to the end, it can be automatically repeated. You can toggle on/off the repeat mode by tapping on the round check mark.

Please note that some audio item in you iPhone Library may be protected by DRM (Digital Rights Management). Embedding such an audio item into another audio is not authorized and not supported by Apple. You will be prompted when attempting to select such a DRM-protected audio item in the media browser.


Recorder
At any time, tap on the red button of the recorder to start recording, tap on the same button again to stop current recording and get a new mp3 file in standard quality @44.1k/16bit/stereo.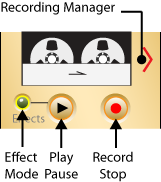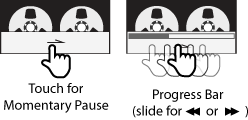 While recording is in process, you can momentarily pause it by touching on the rectangle panel on top of the two spinning reels, or resume recording by untouching it.

After recording, the new mp3 file will be automatically ready for playing back. Tapping on the play button will start playing it. Tapping on the same button will pause the playing. Tapping on it again will resume from the paused point. Alternatively, you can momentarily pause/resume the playing by touching/untouching the rectangle panel on top of the two spinning reels. Besides, you can slide on the same panel to do fast-forward/rewind, so that you can skip/repeat an arbitrary part of the recording.

While the recorded vocal is being played, you can review it as an audience. By tapping on the round check mark labeled "Effects", you can optionally engage all the effects and have the vocal rendered again. This is called "off-stage" mode, which allows you to progressively refine you vocal works through unlimited iterations of test-and-adjust.

Finally, you can record while playing, more accurately, you can do playing, rendering and recording simultaneously.



Recording Manager

The built-in recording manager allows you to load/rename/delete a recording, and share a recording via:
| | | | |
| --- | --- | --- | --- |
| | | | |
| WiFi download | email attachment | upload to iCloud | pass to another app |
You can also import mp3 files from iCloud


Anti-Saturation

Every microphone has its optimal reception distance. A regular microphone differs from the one held in pop start's hand which is often put very close to mouth. If you do so with a regular microphone, raspy sound occurs as the system is saturated. You can turn-on the "Anti-Saturation" feature to prevent such cracking sound. It is recommended that you always keep it on because its benefits always beat its side-effects, moreover, it also offers a bonus which will automatically boost your voice if you are occationally too far from the microphone.

Remarks
Although iPad has built-in microphone and speakers, using both of them simultaneously may lead to howling sound due to unexpected sound feedback. To avoid this annoy case, the built-in speakers will be automatically muted while the built-in microphone is in use. To hear the output, simply plug in headphones or external speakers/amplifier. Alternatively, plugging in an external microphone will automatically enable the built-in speakers. And of course, when playing a recording, the built-in speakers will be enabled as the built-in microphone is disabled.
---
Every iPhone needs apps for dealing with voices. VocalStyler offers combo features for vocal rendering, voice changing, voice recording and publishing. It is NOT a mobile replacement of a professional vocal studio, but a lightweight, portable, affordable and handy tool addressing everyone's equivalent needs, such as: video dubbing, game dubbing, Karaoke, rapping, impromptu performance, party, anonymous interview ... and your creative use of it will be infinite.